To go back use your browser back button

About Keen Design:

The numbers:
We have been in the rental biz since 1990 and in the vacation rental industry since 1999.
We now own and operate a combination of long term and vacation rentals in 4 states.
We have successfully served over 400 vacation rental bookings.

Our staff:
We personally book and track vacation rentals. But for everything else we contract quality local property management to ensure that any difficulty is dealt with promptly. They are local and close by your rental. Their staffs are always on call to handle any problem you may encounter. Professionally cleaning is performed for each booking. For vacation rentals we are registered with the state/county. We dutifully collect vacation sales tax and send to the county tax collectors.
We also try to impart the personal touch with helpful maps and info. Wanna know what to bring or where to go? Just ask.

We always supply our personal contact information to each renter. So for difficulties, you have your choice of calling the property manager or us. Locked yourself out? Simply call and a new key will be instantly available.

Our vacation rental process:
We send clear and concise formal quotes as a standard part of the email booking process. All terms and procedures are clearly defined before booking. We offer a fair and reasonable refund policy that is explicitly stated with rental quotes. When last minute cancellations cause extreme hardship, we try to work out a solution with the customer.
If this track record is still not enough to inspire confidence, you can rent our Tahoe and Maui vacation properties direct from the property management companies (for a premium) who can offer travel insurance..

Our long term lease process:
We have our local property management companies handle the showing, do credit checks and handle the lease.

Our Commitment:
We are always striving to make your rental process as smooth and as enjoyable as possible. As a result we are steadily building a loyal repeat customer base. Ask about repeat customer discounts.

A few customer testimonials we have received over the years:

---
<>

Tahoe Chalet Customers:


Hello Dana,
Thanks again for the Tahoe rental for Thanksgiving. We had a wonderful time. The house was great and everything went off without a hitch. The wi-fi turned out to be a wonderful perk. Everyone's laptops were humming away. I'm attaching a pic of me & the fam in your backyard the morning we got a few inches of snow.
The Williams (3+ time repeat customers).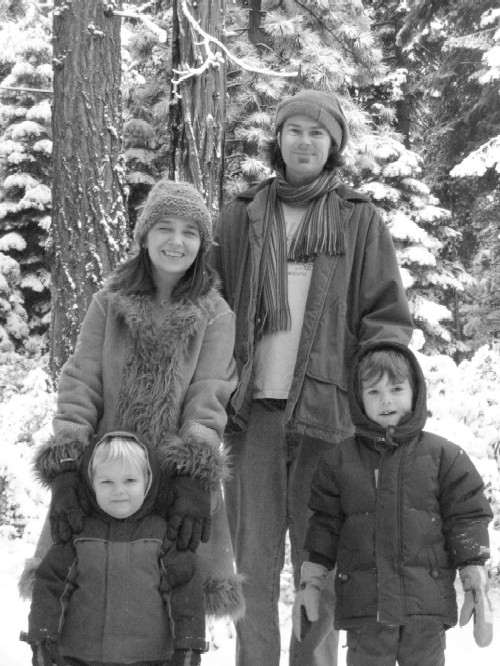 Hi Dana,
We just returned from another great Tahoe vacation. We hated to leave. The kitchen is terrific - so much space and such pretty cabinets. Good choice on the carpets. It all looks great. My 3 sisters and I would like to rent the chalet for 4 nights beginning June 21, 2010. Let me know if that works and, if so, what the rent would be. My husband and I plan to return next August but haven't got the dates ironed out yet. I hope it's still available. Thanks again for the great house.
Karen (4+ time repeat customer since 2008)

<>Hi
--our trip was good, as usual. The weather kept us off the lake for a lot of the time but as we come from a warm climate....we enjoyed the change. I am sure we are interested in going back to the Chalet and will contact you as soon as we get settled.
Jim (5+ time repeat customer).




Hello Dana,

Everything went great at the chalet. The improvements look great. Unfortunately we were there in between storms. You can't complain too much when it is blue bird and 45 degrees.


We appreciate the opportunity to stay at your place. Attached is a picture of me an my family at Homewood.

Jeff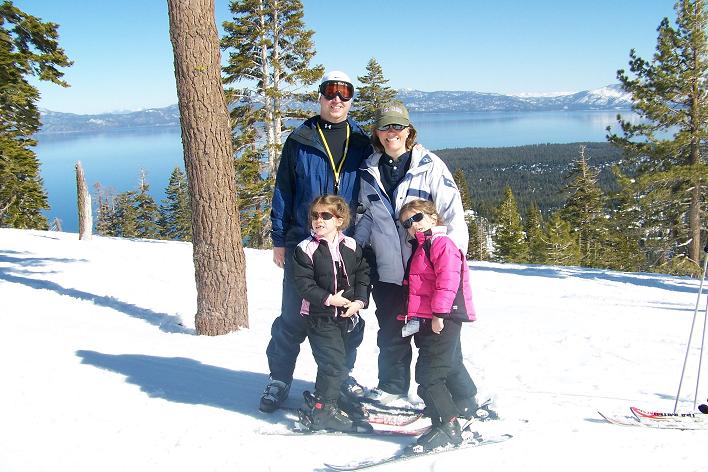 Hi, Dana.
We just returned from another great stay at the cabin. We really had some excellent skiing weather.
Brett

Dana,
Thank you for allowing us to rent your cabin - we really enjoyed it. It turned out to be a shop-til-you-drop week for us. Also rode bikes - that hill back up to the cabin is a doozy! We actually didn't try out the hot tub - watched lots of HGTV and dvds, though. Hope it was ok - we helped ourselves to the ice cream in the freezer. We thought that was a great touch - better than shampoos and tiny soaps! :)
Happy 4th of July!
Joan

Hi,
We had a fabulous time at your place this week, and hope to maybe rent from you again. The house was delightful, conveniently located, and outfitted with everything we needed. Thanks so much.
Katherine

Hi --
We wanted to let you know that our family enjoyed staying at your Chalet a lot. We really liked the hot tub and the proximity to Tahoe City
Thanks,
Dina

Just a quick note to say THANK YOU for the use of your cabin. We had a wonderful time. We may want to use it again next year during the same time frame How early can we book it???
Vince
Dana,

We had a great time. Only got stuck in the driveway a few more times :) we Georgians do not know how to drive in the snow. We are considering making this an annual trip, we would love to stay in the Chalet each year if available.
Thank you,
Irina

---
Maui Townhouse Customers:





Today is our last day. We would like to come back next year .. so, please

send us your proposed price when you can ...
Eugene (4+ time repeat customer)



Dear Dana,
Words and not enough to say Thank-you for allowing us to stay at your beautiful condo on Maui. Your Condo was beautiful, so well stocked with everything for an enjoyable weeks vacation. Such beautifully decorated rooms, comfortable beds and great fluffy towels. And that view... it made it that much harder to say good bye to Maui. Your housekeeping service does a good job: we felt so welcomed when we walked in Saturday afternoon with the fans on, and the music playing. Wow!! Takes me back right now!!!
Roger.

<>Hi Dana,
Thanks for your letter. We are interested in returning next summer. Thanks.
Simon

Dear Dana,
We had such an incredible week in your beautiful place at Puamana. It was perfect for us. It was so much more fun than staying in a hotel. We could pretend for a week that it was ours and we were home. Everything we could possibly want was all ready there. The view was beautiful from every window, the yard, trees and flower beds so lovely. Toys in a cabinet. The ocean right at the door (we didn't know high tide could be in the afternoon). There are so many stars and they are so bright. Things there we would never find in a hotel. Thank you and your family so much for sharing with all of us. With great appreciation and Mahalo.
Carol & Don, Andrea, Levi & Lexi and Roger & Paul.



Hello Dana,
Just thought to thank you for the lovely accommodations - we had a great time and loved your place.......next time we won't bother with Oahu at all.........even though I haven't been to Maui since the 70's - the Puamana seemed the same to me........so once again thank you and we hope to come back again (maybe next year??) and stay for 2-3 weeks.
Regards,
Karen, Brian and Jayne

Hi Dana,
I want to thank you for the opportunity to use your Puamana townhouse last week. My family and I couldn't have had a better vacation. Hopefully we'll be able to do it again one day. I have a couple of friends who may be in touch in the coming months regarding 2005 rentals. You have a beautiful place and again thanks for renting to us.
Thanks,
John

Dear Dana,
We had a wonderful time in Maui at your Puamana townhouse. It was the ideal location for our family. The setting with the beach, sound of the waves, and the sunsets were like a dream. We want to go back very soon and our teenage daughter wants to live there. Thank you for allowing us to use your townhouse and we would recommend it to all our friends.
Sincerely,
Gangadai

Dear Dana,
We wanted to let you know that we had the most wonderful time at your condo. We were there from August 27th to Sept 4th and now we want to move there! We absolutely loved it. The condo was the most perfect location, we never wanted to leave the lanai. We will definitely be back soon, we are planning next year's Maui vacation already. Thank you very much.


Sincerely,

The Rosetes

---

Long Term Customers:
Dear Dana,
Thanks for everything. We really enjoyed staying in your rental, and I will certainly recommend your place to others.
With best regards,
Mike

Dana,


Thank you for making my move as easy as possible.
Best wishes,
Matt

Hi,
I hope all is well with you two. We will clean the unit ourselves as before.Yes it is a lot of work but we will again do a very good job. We have enjoyed living here and thank you for all that you've done and how you've gone above and beyond so often for us. We truly appreciate it!!
Thank you
Michael

Thanks again for your significant part in my enjoyable and productive stay in this town. I'm happy to serve as a reference for your rental biz in any capacity going forward.
Good luck and all the best,
Morrie


Dana,
Thank You for everything. I loved the apartment!
Maralee
---

We at Keen Design look forward to serving you. Send us an email!
To go back use your browser back button